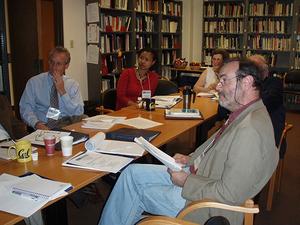 CSHE's seminars offer illuminating lectures and discussions on the latest national and international issues shaping higher education today.  They are open to the public and lunch is provided.   Watch for our upcoming events. 
CSHE Seminar Series Events

A Conversation with Michael Kirst and Mitchell Stevens on "Remaking College"
Wednesday, March 18, 2015

 | Social Science Matrix, 8th Floor, Barrows Hall | 4pm - 6pm

A conversation with Goldie Blumenstyk on American Higher Education in Crisis?
Tuesday, January 27, 2015

 | Faculty Club - Heyns Room | 4pm - 6pm

 Re-Thinking College Readiness in Math: Community College Experiments with Remedial Math Curricula and the Implications for Transfer
Thursday, December 4, 2014

 | 768 Evans Hall | 12noon - 1:30pm

 Institutional Data System Development in Chinese Colleges and Universities in Response to Changes
Thursday, September 11, 2014

 - 

Thursday, September 11, 2014

 | 768 Evans Hall | 12noon-1:30pm

 Keeping up with the demand for a skilled workforce - A comparison of US and German models of university continuing education
Tuesday, May 13, 2014

 | 768 Evans Hall | 12noon - 1:30pm

 Back to the Future: New Study of Freshman Admissions at UC
Tuesday, April 29, 2014

 | 240 Bechtel Engineering Center | 12noon - 1:30pm

 From "soft power" to "economic diplomacy": A comparative look at the implications of changing rationales for international education on the federal role in higher education in the U.S. and Canada
Thursday, April 24, 2014

 | 768 Evans Hall | 12noon - 1:30pm

 Challenges to Governance Facing US Higher Education
Tuesday, March 11, 2014

 | 768 Evans Hall | 12noon - 1:30pm

 German Graduate Education Reforms and their Implication for US Doctoral Education
Thursday, January 30, 2014

 | Room Change - 240 Bechtel Engineering Center | 12noon - 1:30pm