Background image: Celebrating 10 Years of ELA!
Play video
Background image: Sather Gate at sunset
About ELA
The Executive Leadership Academy (ELA) is designed for individuals from all backgrounds, who are currently serving in administrative positions in higher education, and who are interested in preparing themselves for appointments to executive positions such as dean, vice president, provost, president, and chancellor. It offers a five-day intensive training experience and is guided by a select faculty team, comprised of over 25 senior-level higher education executives.
The sessions focus on 26 Executive Leadership Skills that are essential to serving as successful higher education administrators, with topics on shifts in higher education and higher education leadership, changing funding sources and expectations, new requisite multicultural competencies, risk management, governing board relations, fundraising, and many more. This Academy will prepare current and future leaders to appreciate the multicultural and global dynamics of higher education by promoting key critical thinking skills, leadership, and strategic planning for higher education officials.
2021 ELA Sessions 
We are pleased to announce that we are currently accepting applications for:
A) JULY 12-16, 2021
B) AUGUST 2-6, 2021
Be sure to submit your application ASAP to ensure your participation in the program!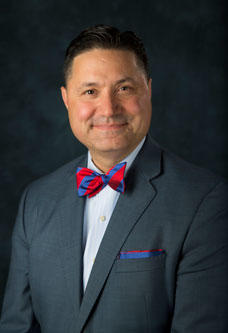 An excerpt from the UCOP Announcement:
On May 20, 2020 the University of California Board of Regents approved Dr. Juan Sánchez Muñoz's appointment as UC Merced's fourth chancellor. Muñoz comes to UC from the University of Houston-Downtown (UHD), where he has served as president since 2017.
"It is an honor and a privilege to lead UC Merced, a campus that distinguished itself in just 15 years as an exemplar of educational opportunity," said Muñoz, a first-generation college graduate. "Having dedicated my career to student success and creating access to the transformational power of higher education across racial and social lines, I'm excited to continue that work at the University of California, a world-renowned public institution."
Muñoz's move to UC is a return to his California upbringing and academic roots. Before Texas, where he served as vice provost for undergraduate education and student affairs and senior vice president for diversity, equity and community engagement at Texas Tech University, Muñoz worked as an assistant professor at California State University, Fullerton in the Department of Secondary Education. He earned a bachelor's degree in psychology from UC Santa Barbara and a Master of Arts in Mexican-American Studies from California State University, Los Angeles. Muñoz was then awarded a Doctorate of Philosophy from UCLA where he studied curriculum and instruction in the Division of Urban Schooling.
"Dr. Muñoz's experience and qualifications alone make him an outstanding choice to lead UC Merced," said John A. Pérez, chair of the UC Board of Regents. "Add to that his passion for ensuring the success of all students, especially public school students from underrepresented and underserved communities, and it is clear he is the perfect match for UC Merced as the campus moves forward on its impressive journey." 
Tom Hansford, chair of UC Merced's Academic Senate, said, "I am delighted to welcome Dr. Muñoz to UC Merced and look forward to working with him as we continue building the 21st century public research university."
Muñoz's scholarship has been featured at national conferences as well as in academic journals, books and encyclopedias. In 2010, Muñoz was among the contributing editors of the "Handbook of Latinos and Education," which received the American Association of Educational Studies' prestigious Critic's Choice Book Award. His more recent co-edited volume, "Perspectives in Interdisciplinary and Integrative Studies," explores disciplinary responses and interdisciplinary learning.
To read the full announcement, click HERE.
Tuition & Hotel Fees
Tuition Fees: $7,900
This includes: curriculum & program materials; continental breakfasts, deluxe lunches, and light refreshments for the week; one reception and dinner; and a certificate of completion from UC Berkeley. Tuition EXCLUDES hotel accomodations, which will need to be made separately. 
In an effort to increase accessibility to the Executive Leadership Academy, we are pleased to be able to offer a limited amount of Lodging Fellowships to those with financial need. The fellowships are strictly for lodging and the hotel (designated by ELA) will be directly compensated by ELA for lodging accomodations.
10th Anniversary ELA Class of 2020