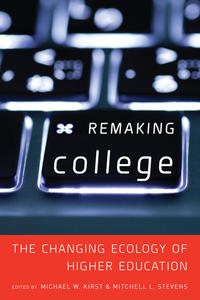 Wednesday, March 18, 2015
Social Science Matrix, 8th Floor, Barrows Hall
(map)
President, California State Board of Education
Associate Professor of Education, Stanford University
On March 18, from 4-6 P.M., the UC Berkeley Center for Studies in Higher Education and Social Science Matrix present "Remaking College," a moderated discussion featuring Michael Kirst and Mitchell Stevens, authors of the new book, Remaking College (2015, Stanford University Press).
Kirst is Professor Emeritus of Education and Business Administration at Stanford University and the current President of the California State Board of Education. Stevens is an Associate Professor of Education at Stanford University, with additional appointments in business and sociology. Remaking College (Stanford University Press, 2015) challenges readers to rethink their understanding of learning after high school. The essays in this book imagine a future unencumbered by dominant notions of "traditional" students, linear models of achievement, and college as a four-year residential experience
Encompassing a range of disciplines and professional backgrounds, the book brings a unique perspective to the fate and future of U.S. higher education. By directing their focus to schools doing the lion's share of undergraduate instruction—community colleges, comprehensive public universities, and for-profit institutions.
Professor Emerita Carol T. Christ, former president of Smith College and director of the Center for Studies in Higher Education (CSHE), will moderate this discussion.
A reception will follow.