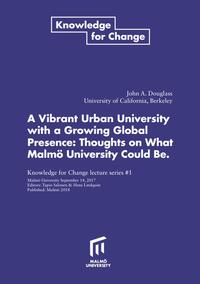 May 18, 2018 – A new study by CSHE researcher John Aubrey Douglass examines the changing role of Malmö University in its urban environment. The publication, A Vibrant Urban University with a Growing Global Presence: Thoughts on What Malmö University Could Be, is part of a series of studies commission by Malmö Universityunder the title Knowledge for Change.

Malmö is located in the at the southern tip of Sweden, across from Copenhagen, and is the home for a growing tech industry and a significant influx of immigrants. Bluetooth technology has its origins in the Malmö region which includes Lund and Helsingborg.

In 2012, in order to help push Swedish universities to become more economically and socially engaged, the government established new incentives for its national universities to increase research and interaction with regional economies and to foster economic innovation and regional engagement

For this purpose, Malmö University was recently granted "full accreditation" by the Swedish Ministry. Douglass notes, "Its beginnings, and much of its current ethos, is that of a högskola, with an emphasis on vocational programs such as teacher and nursing education, as well as technical education at the first-degree level. Now Malmö's university is in the process of transitioning to an institution with a stronger emphasis on research (broadly defined), and new masters and doctoral programs, beginning in 2018."

Douglass notes the rising expectations of stakeholders, from students to regional businesses and the local public sector, poses serious organizational and cultural challenges for the university. "Indeed, the history of teaching-intensive universities transitioning to comprehensive and more research-intensive universities is a troubled one. Academic cultures, the expectation of government and others, the support services needed for students, and the financial model, have often clashed. Yet, there is much reason to see the future of Malmö University as exciting and bright . . . Malmö University is young, and its rapid growth in the last ten years means a steady stream of new talent and, one would expect, openness to change and innovation. Since all but the Swedish universities in Uppsala and Lund also have their origins as högskolor, there are lessons to be learned from their transitions."

The author urges Malmö University to affirm and strengthen its identity as an urban university. He then uses aspects of the New Flagship University model to propose paths for building an internal culture, policies and practices for that end. "The key is to further develop the internal academic culture and quality assurance practices that shape its larger mission," states Douglass," and to avoid the pitfalls of the race for global rankings or other misguided measures of productivity. In other words, my sense is that through Malmö University's urban mantra, including research relevant to local and societal issues, will come a growing international reputation."

He concludes: "Malmö University has a tremendous opportunity to evolve in a manner that focuses on its Urban University ethos, yet that also selectively builds its international reputation and attractiveness. Under its own terms, it might see itself as an emerging Urban New Flagship University."

Info on Author: John Aubrey Douglass is Senior Research Fellow – Public Policy and Higher Education at the Center for Studies in Higher Education at UC Berkeley and the UC Berkeley PI of the Student Experience in the Research (SERU) Consortium. His latest books include, The New Flagship University: Changing the Paradigm from Global Ranking to National Relevance (Palgrave Macmillan 2016), and Envisioning the Asian New Flagship University: Its Past and Vital Future (Berkeley Public Policy Press 2017).