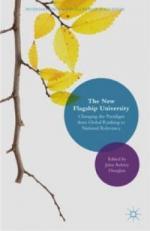 Jan 14, 2016 – It is a familiar if not fully explained paradigm. A World Class University (WCU) is supposed to perform highly influential research and retain a brand name that transcends national borders. Perhaps, most importantly, the particular institution needs to sit in the upper echelons of one or more world rankings generated each year by nonprofit and commercial enterprises. In his new book,The New Flagship University: Changing the Paradigm from Global Ranking to National Relevancy (Palgrave Macmillan 2016), CSHE senior research fellow John Aubrey Douglass argues that this is a narrow and detrimental window for the understanding the value, breadth of activities, and societal impact of the best and most influential universities.
The New Flagship University provides an expansive vision for leading national universities and an alternative narrative to global rankings and the notion of World Class Universities that dominate the attention of many universities, as well as government ministries. The New Flagship model explores pathways for universities to re-shape their missions and academic cultures, and to pursue organizational features intended to expand their relevancy in the societies that give them life and purpose. In this quest, international standards of excellence focused largely on research productivity are not ignored, but are framed as only one goal towards supporting a university's productivity and larger social purpose—not as an end unto itself. Chapters by contributing authors detail the historical and contemporary role of leading national university in Asia, South America, Russia, and Scandinavia, and consider how the New Flagship model might be applied and expanded on.
Noted higher education practitioner and scholar Peter Scott (University College London) states that, "John Douglass' new book articulates an imaginative new concept of the 'flagship university', at once excellent according to all academic measures but rooted in meeting the real needs of their societies." Carnegie Corporation president Vartan Gregorian notes that, "Douglass's new work provides important perspectives on the future of higher education around the world, underlining the essential role of the modern, flagship university." And UC Berkeley Chancellor Nicholas Dirks calls The New Flagship University, "a much needed reboot, profiling and explaining the actual policies and practices, and expansive mission, of the best and most influential global universities."
A CSHE New Flagship University Websiteprovides more information on the book, including its major themes and other resources regarding the applicability of the New Flagship model in different parts of the world. Hard copy and E-Book versions of the book are available at:
Springer.Link - Free E-Book for member campuses
Info on Author: John Aubrey Douglass is Senior Research Fellow – Public Policy and Higher Education at the Center for Studies in Higher Education at UC Berkeley, author of numerous books and articles on the social and economic role of higher education, and co-founding Principal Investigator of the Student Experience in the Research University (SERU) Consortium.
CONTACT: John Aubrey Douglass- douglass@berkeley.edu