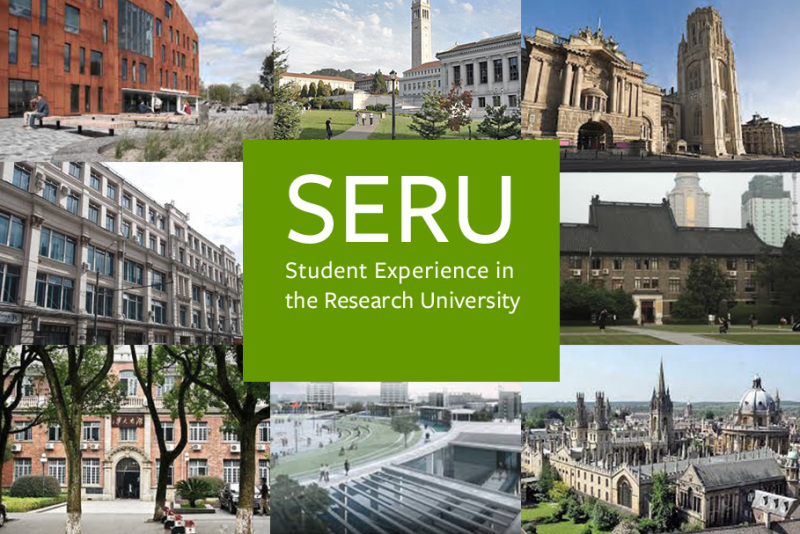 The Student Experience in the Research University (SERU) Consortium held its next Research Conference on the UC Berkeley campus with participants from our Association of American Universities (AAU) and International campus members, along with researchers and campuses interested in Consortium activities. The SERU Consortium remains based at UC Berkeley, working in close collaboration with the University of Minnesota in the US, and with the International Graduate Insight Group (London) and the Higher School of Economics – Moscow internationally. This will be Consortium's 12th research event.
This year's Symposium returned us to the theme of what distinguishes the undergraduate graduate experience of students attending top-tier, research-intensive universities, and relates to the Consortium's three major research initiatives. Symposium presentations and panels focused on:
1.A Holistic View of the UG Experience - Presentation of initial results from a major SERU policy research project, "The Research University Advantage" focused on the experience and engagement of undergraduate students; and an analysis of SERU and our data sources from our AAU and International campus members. Our goal is to create a holistic and comparative analysis of how students are engaged in a variety of activities in the course of their academic careers in the realms of teaching/learning, research engagement, and public service.
2.The Challenges of Graduate Education - The SERU Consortium launched this academic year a new SERU Graduate Student Survey for use among our member institutions, and with our first administration during the 2014-15 academic year. Graduate education will now be a major focus of Consortium data collection and policy research. Data from the pilot will be discussed, along with presentations and panel discussions on attributes and challenges faced by our US and International members in sustaining and improving graduate and professional education at our institutions.
3.Expectations and Engagement of International Students – As top-tier, research-intensive universities continue to grow in the number of international students at both the undergraduate and graduate level, there is an increased need to understand their cultural and socioeconomic background, expectations, financial challenges, integration into our academic communities, academic and social engagement, and academic success.
As in previous SERU research symposiums and conferences, we also explored best practices among our institutions in improving the undergraduate and now graduate student education, and the ways that SERU data is being used by our members.
For more information, contact SERU Berkeley Principal Researcher John Douglass douglass@berkeley.edu or SERU-I Managing Director Igor Chirikov chirikov@berkeley.edu
MONDAY, JUNE 8 - DAY 1 – 370 Dwinelle Hall, UC Berkeley

8.00-9.00

Registration – Continental Breakfast

9.00-9.20

Welcome, Introduction and SERU Consortium Update – John Douglass (CSHE SERU PR/UCB) and Carol Christ (CSHE Director/UCB)

9.20-11:00

Session 1: International Students (IS): Growing Numbers, Growing Expectations

Chair: Margaret Heisel - CSHE

Keynote: Peter McPherson (CEO Association of Public Land Grant Universities)

Presentations (15 min each):

Comments (10 min):

Wyatt R. (Rory) Hume (former Provost United Emirates University, Provost Emeritus University of California Office of the President)

11:00-11:15

11:15-12.30

12:30-1:30

1:30-3:00

Break

Session 2: Research University Advantage – Project Scope and Initial Analysis

Chair:  John Douglass (CSHE SERU PR/UCB)

Presentation:

Discussion: AAU and International SERU Campus Representatives

Lunch

Session 3: Rising Tuition, New Financial Aid Models, and Affordability

Chair:  Darwin Hendel (University of Minnesota)

Keynote: Robert Shireman (Executive Director California Competes founder Institute for College Access and Success) PowerPoint Slides

Presentation: Socio-economic Access at SERU Campuses – What that Data Tells Us Thus Far – Patrick Lapid (Economics UCB)

Panel:

Karen Zaruba (University of Michigan)
Henry Brady (Dean Public Policy UC Berkeley)

3.00-3.15

3:15-4:30

4:30-5:00

5:00- 7:00

Break

Session 4: SERU and Beyond - Exploring Big Data and Predictive Analytics

Chair: Amber Machamer (Planning and Analysis, UC Berkeley)

Presentations (15 min each):

UC Riverside - University Innovations Alliance Project – Steven Brint (Vice Provost UG Ed UC Riverside/SERU AAU PR)
A Student-Relevant Higher Education: Seeking a Customized Student Experience – Igor Chirikov (SERU-I Managing Director/HSE Moscow)
Big Data at the University of California – Pamela Brown and Tongshan Chang (Planning and Analysis UC Office of the President)

An Alternative SERU Survey Framework – SPACES - Steven Brint (Vice Provost UG Ed UC Riverside/SERU AAU PR)

SERU Symposium Reception – Howard Room, Faculty Club, UC Berkeley
 TUESDAY, JUNE 9 - DAY 2 - 370 Dwinelle Hall, UC Berkeley

9:00-10:15

10:15-10:30

10:30-11:15

11:15-12:30

12:30-1:30

1:30-3:00

3:00-3:15

3:15-3:50

3:50-4:30

4:30-4:45

Session 5: Undergraduates at Research-Intensive Universities – An International Comparative View

Presentation: Igor Chirikov (SERU-I Managing Director) and John Douglass (CSHE SERU PR/UCB) PowerPoint Slides

Panel:

Takahiro Saito (Osaka University)
Marijk van der Wende (Universiteit Utrecht)
Christina Hughes (Warwick University)
Joyce Sewry (Rhodes University)

Break

Undergraduate Education at Berkeley – Building Quality in an Era of Fiscal Constraints

Chair: Carol Christ (CSHE Director/UCB)

Keynote: Catherine Koshland (Vice Chancellor for Undergraduate Education UC Berkeley)

Session 6: SERU Topicals

Chair: Diane Beaudoin (Purdue University)

Presentations (15 min each):

Lunch

Session 7: Graduate Education at Research Universities: Major Challenges

Chair:  Fiona Doyle (Dean Graduate Division UC Berkeley)

Keynote: "Graduate Education in International Perspective" - Maresi Nerad (Director Center for Innovation and Research in Graduate Education University of Washington)

Comments (10 min): Marijk van der Wende (Graduate Dean, Universiteit Utrecht)

Presentations (15 min each):

Break

Graduate Student Panel

Panel Chair - John Ready (President Graduate Student Assembly/Nuclear Engineering UC Berkeley)
Galen Panger (School of Information UC Berkeley)
Liana Prescott (Sociology UC Berkeley)
Sheisha Kulkarni (Business UC Berkeley)

Discussion Panel: What Do We Need to Know? – What Ways Can AAU Institutions Improve the Grad Student Experience?

Panel Chair - Anne MacLachlan (CSHE Senior Researcher/UCB)
Andrea Rex (Assistant Dean Graduate Student Services UC Berkeley)
Daniel Jones-White (UMN)
John Painter (University of Virginia)

Conclusion and Brief Discussion on our Next SERU Event